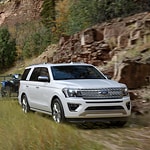 The Ford Expedition is a high-end vehicle that provides plenty of interior space, convenience features, and power under the hood. Interested in how the Expedition's performance matches up to its competition? You won't beat this model in performance, comfort, and convenience. Safety is also a priority with all of the vehicles on the Ford lineup.
The standard engine in the Expedition is a twin-turbocharged 3.5-liter V-6 with a 10-speed automatic transmission. The XLT and Limited trim levels provide 375 horsepower, while the long-wheelbase model can often get to 400 horsepower.
If you're concerned with the fuel efficiency ratings for the Ford Expedition, you can achieve 17 miles per gallon when you're in the city, and 25 miles per gallon is the average for highway driving. If you're towing at the full capacity of 9300 pounds, you can expect to be getting a bit less with your fuel economy numbers.